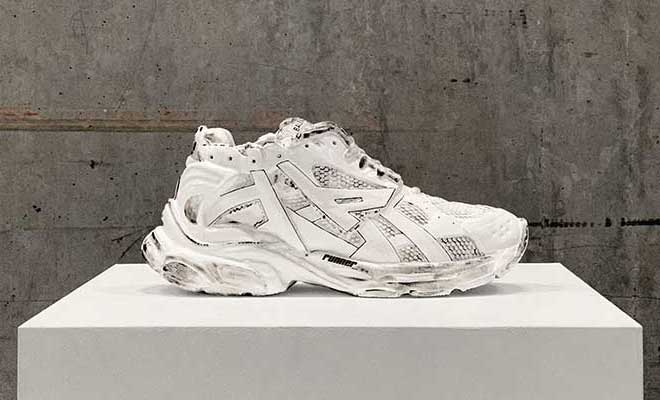 BALENCIAGA OBJECTS presents a runner sculpture
Balenciaga newest addition to his Balenciaga objects is an extremely limited edition Runner sculpture. The Balenciaga Runner Sculpture is available at outlets such as Balenciaga Beijing, Beverly Hills, Dubai, Hong Kong, London, Monaco, Paris, Shanghai and Tokyo, for a total of 20 units. The Balenciaga Runner Sculpture revisits the Runner Sneaker, Object is entirely handmade and made of enamelled ceramic.
RELATED: Discover the Baleciaga store in London
Each unit has been both sculpted and modeled by hand, fired, then hand painted to affect the subtle colors of a worn shoe using a traditional Italian majolica technique, then fired again. Like the real sneaker, there are signs of wear and movement codes, such as sporty layered textures, distressed fabric edges, exposed stitching, and intentionally bubbling technical adhesive.
Balenciaga objects are produced outside of the fashion collection calendar and range from exclusive works of art to practical, everyday objects, all of which are timeless. A life-size Balenciaga Track sculpture in silver metal was the first item in the series, followed by several sneaker styles reimagined in laser-etched glass cubes.
Discover Balenciaga's Art in stores project with a collaboration with a Berlin artist Anna Uddenberg. This collaboration was revealed in the window of the Via Montenapoleone Balenciaga boutique in Milan, Italy.
The Balenciaga Runner Sculpture is launched on April 5, 2022.