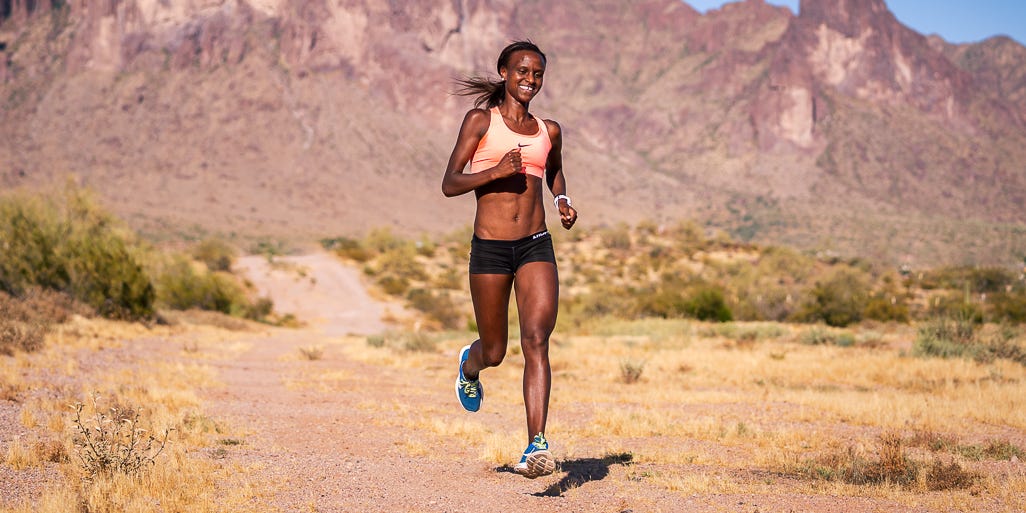 Obsie Birru – How this professional runner pleads for more kindness during races
For Obsie Birru, anyone who runs is a friend.
For example, the unsponsored elite runner established a lasting bond in the 2021 New York City Marathon that propelled both athletes to breakthrough performances. As the elite women's corral runners made their final pre-race stretches at the start line on Staten Island, Birru approached science journalist and elite runner Joanna Thompson and laid out a plan for the race. The two know each other after years of dating on the elite racing circuit, but they had never worked together before.
"[Birru] I said, 'Okay, me and you, we're gonna do this together,' and I was like, okay, let's go," Thompson said. The runner's world.
Throughout the race, they talked to each other, checking in, reassuring each other, and ultimately becoming a "voice of reason" in tough times, Thompson said. During the race, Birru prefers to accept water offered by volunteers to the rest of the peloton on the course, instead of laying out his own nutrition bottles – a privilege reserved for elites only. Thompson said Birru even offered to share her water with the group, a "selfless" gesture at an event where hydration is key. When Thompson slowed down to grab her bottles at the elite aid stations, Birru waited for her. At the same time, they could hear the confusion of the spectators on the sidelines. "Did she just say to the other girl 'good job?'" they heard one puzzled fan ask another.
Working together finally paid off for both riders that day. Birru finished her first World Marathon Major in 2:38:54 as the 16th overall woman and sixth elite American woman. Thompson was seventh in 2:39:47, a personal best three minutes.
"To have someone on the starting line like 'you're my pack,' that was awesome," Thompson said. "I wouldn't have had the race I had without it."
A similar situation occurred during the 2019 California International Marathon (CIM). During their warm-up in Sacramento, Birru started talking to Jane Kibii, a Kenyan-born professional marathon runner who lives in Auburn, California. Birru met Kibii when the runners took part in the Twin Cities Marathon in October of the same year. Before the race started, Birru told Kibii she was unsure of her fitness after the Twin Cities Marathon's quick turnaround at CIM in December, but Kibii assured her she would be fine.
When the race started, Birru decided to run with Kibii for as long as she could, but at mile 9 she began to doubt herself.
"I was like, Jane, I don't think I can go on at this rate, and she's like, 'oh, it's gonna be okay,'" Birru said. The runner's world. Birru returned the favor by encouraging Kibii in the last kilometers when she fell back slightly.
Kibii escaped, eventually winning the race in 2:29:31. Birru finished second in 2:30:25, bettering his previous personal best by five minutes. "It was so fun and nice to have someone who is a competitor, but also a friend," she said.
These unexpected initiations to teamwork are two of many instances in which the Ethiopian-born marathon runner has advocated for more kindness in competition and motivated fellow runners to tackle tough endeavors together.
"I think it empowers you throughout the race, and it kind of brings back the purpose of the race," Birru said. "Yes, it's to compete. Yes, it's obviously to be better and to surpass oneself. But it's also about encouraging others.
On Sunday, December 5, Birru will once again participate in the CIM, which was canceled last year due to COVID-19. Without Kibii, she is the fastest to return to the elite women's field, but she has no target time. Instead, she's looking forward to making new friends and seeing what they can accomplish on the course. [UPDATE: Birru finished CIM in 2:38:18, as the 17th fastest woman.]
"I hope we can all work together and pull each other into PR," she said. "That would be great."
In an interview with The runner's world, Birru shared how she perfected this practice of motivating and helping other competitors during races, and why she wants to see more of it.
Maintain a "human first" approach
Birru, 31, was born in a village in the Oromia region of Ethiopia, an area known for producing some of the best runners in the world. This means she was introduced to the sport of running very early in her life, and she was particularly inspired by the way these elite runners treated those around them.
"I always say I was born into running, I was born in Ethiopia and I saw the culture of running, how nice the runners were to each other," said Birru. "It really shaped me as a person and as a runner as well."
Birru lived in Addis Ababa, the country's capital, for two years before being adopted by an American family at the age of 12. When she moved to Des Moines, Iowa, to live with her new adoptive family, Birru did not speak English. Unable to communicate with his classmates at first, Birru found a sense of belonging in the cross-country and track and field team in middle school. Running provided that connection point she needed.
"Smiling is a universal language that many people recognize," Birru said. "For me, running was a universal language."
Competing for Johnston High School helped Birru learn to be a supportive teammate. She credits head coach Pat Hennes with introducing an approach that took the pressure off and kept the sport fun for everyone. "[Hennes] always told me, 'you're a human first. We love you first as a human being, and no amount of performance will change how we feel about you," she said.
Reflecting on her passion for teamwork, Birru recalled the first race in which she helped another runner. The day before their league track and field championships in her junior year, the athletes were hatching a plan to help their teammate score in the 3200 meters. During the meeting, Birru offered to run with her up to 800 meters to go. Birru said the plan worked when both riders scored championship points.
Lifting the community of runners
Birru then competed at the NAIA level for Grand View University, where she became a five-time national champion. Her first marathon was at the 2011 NAIA Outdoor Athletics Championships, where she broke the NAIA record winning in 2:46:40.
After college, Birru continued to focus on the marathon, training with NE Distance in Providence, Rhode Island, for several years. She qualified for the 2016 Olympic Marathon Trials by clocking a personal best time of 2:36:53 at the 2015 Twin Cities Marathon in St. Paul, Minnesota. This race was also where Birru began to embrace teamwork with his elite counterparts.
"Me cheering on you, the runner next to me, or even the running masses, it doesn't take anything away from me," she said. "If anything, it feeds me too. So, I really accept that, and I like when there are people willing to do that with me.
To encourage teamwork in competition, Birru said that if she knows a few runners in the field, she would ask competitors at the start line if anyone would like to work together in the race. She's had a few experiences where runners aren't interested – some even in two times her during the races, but she laughs about it. Birru said teamwork often begins with a natural progression during the race, when she encourages those around her with positive comments or by offering to take water cups for them.
"Encouraging and uplifting each other is what will make us better," Birru said. "And me, for sure, I want to be a better human than a better runner."
Normalize kindness
Since moving to Phoenix, Arizona in 2019, Birru has written her own workout plans while working as a physical education and health teacher for students in grades 9-12. Due to her busy schedule, including days that start at 4:45 a.m., she usually trains alone. But she draws inspiration from her running mentors, including Olympians Janet Bawcom, Molly Huddle and Diane Nukuri, the elite athletes whom Birru admires because they "uplift others too."
"In the end, what kind of human are you? What is [running] going to do unless you're using it to inspire a child or show kindness? said Birru.
Birru also finds inspiration in her students, who she says motivate her to be a better runner. In her lesson plans, Birru encourages her students to practice positive self-talk every day to "build their self-confidence."
Today, Birru sees kindness in competition as a way to show off in the running community after receiving so much support from coaches and mentors over the years. "It's definitely not normalized enough, and I think it should be," she said.
This content is created and maintained by a third party, and uploaded to this page to help users provide their email addresses. You may be able to find more information about this and similar content on piano.io