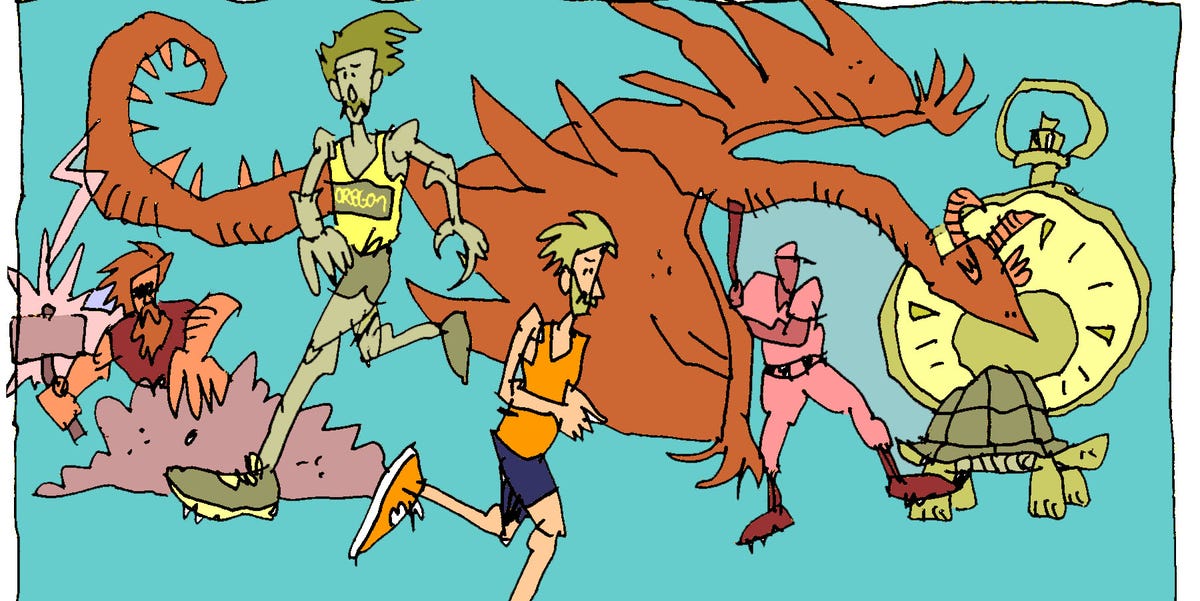 The orange runner | Running cartoonist Luke McCambley
Shortly after graduating from the School of Visual Arts in New York in 2011, major cartoonist Luke McCambley bought a book titled The purple runner.
McCambley, then in his early twenties, chose it for his cover – a simple sketch of a lone distance runner dressed in purple, leaving black footprints under a windswept tree. Much to his dismay, the pages under the illustration weren't as sleek.
"It's not just the worst running book I've ever read," says McCambley, now 32 and living in Miami, Florida, "but possibly one of the worst books that I have ever read."
He swore on the spot that if he ever had the opportunity to write a book about running, it would be better. He would call her The Orange Runner, the provocative opposite of purple and, as evidenced by the walls of the running store he worked in, a popular color for running apparel that year.
A decade later, The orange runner is a reality in its own right; not as a novel, but a comic strip on his website and Instagram. Contained within its panels of black lines and splashes of color, McCambley unveils the mysteries, hard truths and excitement of distance running.
The artist lives up to the name of his creation, wearing an orange beanie, sunglasses and T-shirt on a Zoom call with Runner's world.
The typical gang is like its typical race: the main character trots alongside a friend or mentor. He poses a big question to his companion, who responds with a nugget of wisdom or a counter-argument. The Orange Runner reluctantly accepts the advice, wryly delivering a punchline.
This content is imported from Instagram. You may be able to find the same content in another format, or you may be able to find more information, on their website.
It's a situation most runners find themselves in: a few miles deep, thinking a bit too much about why you're doing this, only to come to the same conclusion: you're doing it because that's exactly what you are doing.
That wasn't always what McCambley did, however. During his early years of art school, he was into boxing. He ran a handful of miles a week to stay fit during his time in the ring. But that changed when his student pockets asked for beer money.
He interned with a graffiti artist for a while, but in the end the artist couldn't pay him. So McCambley scoured Craigslist for something else that paid off. He eventually found a vacancy at JackRabbit, a New York-based operating retailer. It seemed like a sure thing until he read the fine print.
"He said you had to run 10 miles a week to work here… And so I was really worried that I wasn't qualified to apply for this job, because I wasn't running 10 miles a week," says- he. Luckily, the managers didn't care and hired him.
That year, Chris McDougal's bestseller born to run came out of. Barefoot running purists flocked to the store, touting their Vibram idolatry to newbie McCambley. He devoured the book to understand their ramblings. But instead of buying a zero-drop running shoe, he fell in love with the sport's history and traditions. After closing his pages for the last time, he packed a bag with a bottle of water, a book, and a cereal bar, and went out to run until his body wouldn't let him go any further.
Twelve miles later he came out exhausted and self-sufficient, hungry for more racing content. A friend recommended him to read Once a runner by John L. Parker, proclaiming a far better read than Born to run. McCambley flipped through its pages as Quenton Cassidy called him to his newfound passion.
He studied the greats of the past, idolizing Paavo Nurmi and Deerfoot. He loves the stories of legendary runners Frank Shorter and Emil Zapotek, both of whom would be immortalized in later comics. It springs from Steve Prefontaine and Gerry Lindgren like old-school boxing fans would from Joe Frazier and Muhammed Ali.
This content is imported from Instagram. You may be able to find the same content in another format, or you may be able to find more information, on their website.
After realizing it was easier to compete in races than fights, McCambley signed up for Five Miles and Turkey Trots. He even started to to earn races. As his dedication to running increased, his interest in school waned: "Serotonin [and] The combination of dopamine coursing through your veins does much better for your sanity than staying up until 5 a.m. working on art projects.
It was a fork in the road for someone who was "the kid who draws" in primary school. McCambley discovered the cartoon after asking his uncle to draw him a fighter plane. His uncle, instead of making him happy, opened a big Calvin & Hobbes collection and turned the pages to a strip featuring a fighter jet. McCambley fell in love with Bill Watterson's playful humor and rich illustrations. As he got older, his tastes changed from innocent newspaper cartoons to gritty comic book heroes like Batman or the Watchmen.
He enrolled in the School of Visual Arts in New York in the fall of 2007. By the time McCambley read The purple runner in 2011, he found that he enjoyed working at JackRabbit more than he enjoyed working on art. So, after graduation, he ran to stores and participated in outreach programs in schools. His mind was firmly set on a new goal: getting a job in Nike's marketing department through retail connections.
"I worked in a Nike store for about three or four years and realized that I would never get out of retail like never before," McCambley says. "So I started doing comics more often because I was just sitting at work one day, kinda hungover from the run, and I drew a sharpie comic."
This first comic strip, which he describes as "rather than a doodle", formed the archetype of The Orange Runner. A scruffy black-and-white athlete, inspired by McCambley himself, remembers something embarrassing from the previous night's revelry. He picks up the pace in the second panel to try to forget this embarrassment. Successfully resting in the third panel, to repeat the cycle once self-awareness returns.
McCambly's friend Chris Chavez, founder of digital running magazine Citius Mag, offered to repost "the Hangover Fartlek" on the publication's Instagram account. The comic struck a chord with viewers, garnering almost 500 likes.
This content is imported from Instagram. You may be able to find the same content in another format, or you may be able to find more information, on their website.
McCambley's own account gained a few hundred new followers. Then, a few months later, Citius Mag posted another one of his comics, which got more followers on his profile. Delighted to have a platform to share cartoons about his passion, McCambley decided to draw one every day, relying on the advice of an art school teacher, the New Yorker's Steve Brodner"You just have to make a comic every day. It's going to be terrible… But you're going to keep getting better and one day you're going to look down and your comics aren't going to suck. The mantra made sense to him because it was like running; you have to do it every day to get better.
After gaining quite a following, he left the retail store in 2018 and supported himself exclusively through art. The orange runner evolved like him. In his rise to virality, he wrote cartoons on a sketchbook with a waterproof Uni-ball, splashing watercolor on the jagged black lines. Now, he favors index cards and digital coloring to save space on his desk (and a few dollars).
McCambley jokes that he can't write much before he starts repeating himself. Despite this, the tape has remained fresh, evidenced by a recent series linking baseball player Satchel Paige's athleticism with running. McCambley will sit in the morning with a cup of coffee and a doodle, looking at his training journal for inspiration. Most of the time, an idea comes within five minutes. He'll grab a card, sketch a layout, put some notes in the margins, and gradually flesh it out until he's done. The orange runner comic. It helps that he no longer posts every day, but he still manages an impressive release three times a week.
McCambley thought about monetizing the comic through Patreon or a similar service, but decided against it. He gave up making art for a living in 2021, moving to Florida to become a field experience representative for Hoka. Why? He does The orange runner to help and entertain people, not to make a profit.
It's a lesson he learned from his father, who created the very first banner ad on the Internet. The elder McCambley thought marketing should help people, regretting that his creative invention had become an online nuisance. He encouraged his son to make things that help people and give them away for free.
"When I started the comic, the goal was to get to the person sitting on the toilet, delaying their run," he says. "They're scrolling through Instagram, looking for inspiration, and come across a comic of a runner who's probably doing the same thing."
---
This content is created and maintained by a third party, and uploaded to this page to help users provide their email addresses. You may be able to find more information about this and similar content on piano.io