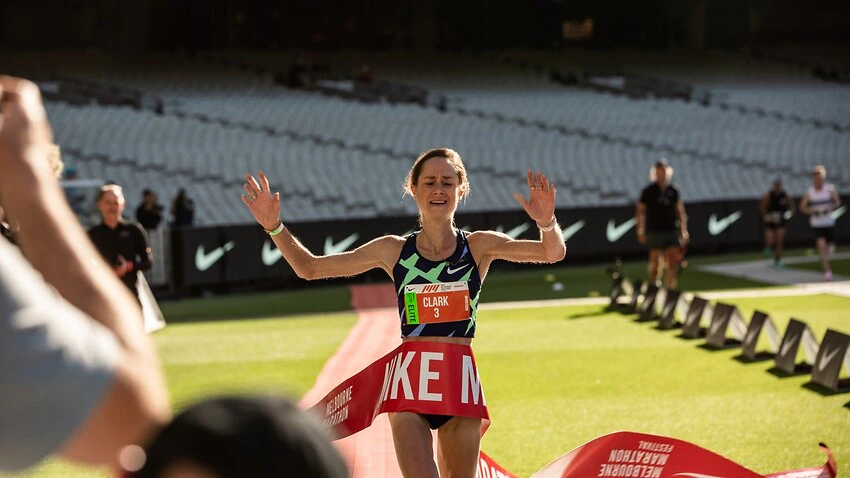 Inside Running Podcast Episode 215: Nike Melbourne Marathon Festival 2021
This episode of the Inside Running podcast is brought to you by PILLAR Performance – Australia's premier sports micronutrition brand – providing high strength formulations to support optimal performance and recovery for endurance athletes. Available now on Pillarperformance.com.au
Brad overloads the calves with questionable shoe choices.
Julian picked up his speed before attending the Melbourne Marathon (with some microphone problems).
Brady recaps his week and begins his run in the Melbourne Marathon race, entering his split times for the race and conditions 2:20:41 placing 8th.
The Nike Melbourne Marathon eventually returned and was won by Brett Robinson in 2:14:33, ahead of Tom Do Canto and Ed Goddard on his long distance debut.
Milly Clark returned to form by winning the marathon in 2:26:59 ahead of Eloise Wellings, who herself ran in 2:29:19 to improve her performance in London from just 8 weeks earlier, both qualifying for the World Championship. Marni Ponton was third with a personal best 2:31:55.
In the half marathon, Izzy Batt-Doyle claimed victory in his debut setting the course record of 1:10:17, ahead of Leanne Pompeani and Jessica Stenson. Jack Rayner led Dave McNeill and Tim Vincent to take on the tape in 1:02:30
The day before the festival, the festival opened was the 10k race, won by Ryan Gregson on his national road racing tour ahead of Andre Waring and Jordan Williamsz. Rose Davies was the first woman to cross, ahead of Rebekah Greene and Rose Donegan.
Full Melbourne Marathon Festival Results
Milly Clark is back as Brett Robinson dust off Tokyo
Tom Thorpe defended his title at the Victorian 5000m Championships earlier this year, winning in 13: 58.49 while Rebekah Greene claimed her first title in 16: 10.41.
Athletics Victoria ResultsHub
Olympic Representative Charlie Hunter turns pro and joins the Oregon-based "Pete Julian Group".
Double Norwegian victories at the European Cross Championships with Jakob Ingebrigsten and Karoline Grøvdal on the podiums over 10 km of muddy terrain in Dublin.
Weekly Athletics Report
The boys chat with the first of three new panelists on the upcoming Patreon-exclusive show, who joins them in recapping their day at the Nike Melbourne Marathon Festival and giving listeners a glimpse of their plans for the year ahead.
Questions from listeners first focus on the validity of claiming your personal best from your Strava instead of the official result, and then discuss whether to keep the Melbourne Marathon in December. Then, even after a long time to come, Moose misses the old pre-race tropes.