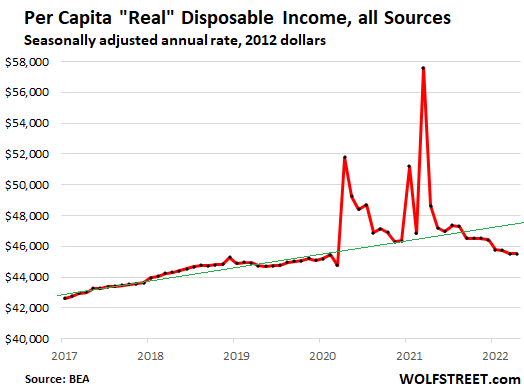 Driven by (formerly) huge gains in real estate, stocks, cryptos as "real" income lags behind? "Real" consumer spending goes up, spending on services goes up
You can see why some retail stocks don't like the shift from goods back to services.
By Wolf Richter for WOLF STREET.
Americans outpaced inflation by a good margin in April. "Real" goods spending – what consumers are buying at retail, adjusted for inflation – rose over the month but was below the peak of last year's stimulus miracle. "Real" spending on services (like health care, travel, entertainment, etc., adjusted for inflation) surged after collapsing during the pandemic as the shift in spending away from goods back to services continues, suggesting that the skewed incentives economy is normalizing. Spending on services is the largest factor, accounting for over 60% of total consumer spending.
"Real" spending increased, approaching the pre-pandemic trend.
Inflation-adjusted spending on goods and services rose 0.7% in April from March to a new record and 2.8% from April's stimulus miracle last year, the Bureau of Economic Analysis said today. It is now approaching the pre-pandemic trend as the consumer economy normalizes at pre-pandemic growth rates, all adjusted for inflation:
"Real" spending on services has skyrocketed, but there is still a long way to go.

Inflation-adjusted spending on services — health care, housing, education, airline tickets, housing, car rentals, entertainment and sporting events, haircuts, repairs, etc. — increased 0.5% in April vs. March and 5.9% yoy. Year.
Real spending on services eventually surpassed pre-pandemic levels and set a new record after spending on voluntary services slumped during the pandemic (e.g. air fares, voluntary health care such as dentists and elective surgeries, haircuts, etc.). It remains well below the pre-pandemic trend (green line) but is on the way to normalizing as spending shifts from goods back to services.
This sharp increase in "real" spending on services in recent months (+5.9% yoy) has boosted consumer spending, even as spending on goods has eased from stimulus-driven highs a year ago.
Spending on services matters: In April, it accounted for 61.4% of total consumer spending, but it's still below the pre-pandemic average of over 64%. This is an indication that when services spending normalizes, it will continue to rise at a disproportionate pace (so watch out for services CPI inflation, which is beginning to eat everyone's lunch).
Real spending on consumer goods is slowly normalizing to nosebleed levels.
Inflation-adjusted non-durable consumer spending – dominated by food, fuel and household goods – rose 0.2% for the month but declined 0.5% from the stimulus-miracle peak in April a year ago.
Even after the year-over-year decline, consumer spending on non-durable goods remains at levels that are up 12% from April 2019, well above the pre-pandemic trend (green line). But it is on the way to gradually normalizing and returning to the pre-pandemic trend:
Real spending on durable goods is suddenly increasing month by month.
So, just to whip up another surprise about the "tapped" or whatever American consumer, inflation-adjusted spending on durable goods rose 2.3% for the month, just when you thought consumers had bought everything they could needed and would withdraw.
Compared to the rise in the stimulus miracle last April, real spending on durable goods fell 6.5%. Spending remains at levels up 29% from April 2019 and continues to contribute to shortages and price spikes in some of these commodities, as well as the massive trade deficit, as many of these commodities are either made in other countries or contain components that these are made in other countries.
But you can see the uneven normalization, the regression to the pre-pandemic mean:
"Real" income below pre-pandemic trend.
Inflation-adjusted personal income from all sources fell 3.5% from April a year ago when stimulus money was still rolling in, but rose slightly from March (purple). This includes income from wages, dividends, interest, rent, farms, businesses, and government transfers (stimulus, social security, unemployment, welfare, etc.), but excludes capital gains. Late last year, as inflation soared, real incomes fell below pre-pandemic trends and stayed there. It's up just 6.0% from April 2019.
Inflation Adjusted Income without transfer payments increased by 2.0% yoy and in April by 0.3% compared to March (red line). It fell below the pre-pandemic trend early in the pandemic. After a partial recovery, it has continued to lose ground since late last year on the back of the surge in inflation, and has remained essentially flat since November.
When it comes to "real" per capita disposable income, things look worse.
The income data above is for total income for all consumers combined, with income growth also being fueled by rising employment and population growth.
Here is the per capita level of "real" disposable income – that is, per capita income after taxes from all sources, which was flat for the month, down 6.4% from a year earlier and down a tiny 1 .8% is up in April 2019. And it's well below pre-pandemic trends:
The sizeable increase in inflation-adjusted spending and the dour situation in inflation-adjusted income (which doesn't include capital gains) show that consumers – not all, but enough to move the needle – are still fed up with money from the multi-billion dollar stimulus plans and with money , which they can draw from the rise in the prices of real estate, stocks and cryptos, where consumers have collectively made trillions of dollars, some of which they have already spent and some of which have disappeared in recent sell-offs, and others on which they still sitting and will continue to spend.
But to spend consumer credit, well … not so hot.
Not adjusted for inflation: Credit card balances, excluding other revolving credit such as personal loans, declined to $840 billion in Q1, still below Q1 2020 and Q1 2019 and back to Q1 2008 levels, despite 13 years of population growth and 37% CPI -Inflation (red line).
Other consumer lending, such as personal and payday loans, was also below pre-crisis highs at $450 billion, despite 13 years of population growth and 37% CPI inflation (green line).
For my detailed discussion of consumer credit across all categories, arrears, foreclosures, third-party collections and bankruptcies, read… Consumers can deal with the Fed's tightening: their debt, arrears, foreclosures, collections and bankruptcies
Enjoy reading WOLF STREET and want to support it? Using ad blockers – I totally understand why – but do you want to support the site? You can donate. I appreciate it very much. Click on the beer and iced tea mug to learn how:
Would you like to be notified by email when WOLF STREET publishes a new article? Sign up here.